With roots in Wilson and Rocky Mount NC, the band Matty Begs officially began in the Spring of 2012.  Known for their high-energy live shows, catch Matty Begs and their acoustic-electric party rock at the best clubs, colleges, and beaches the East Coast has to offer.  Matty Begs writes original material that draws heavily upon the bands' influences. Catchy lyrics and sing-along, party-anthem choruses leave the listener feeling good and wanting more.  Live, the band also covers a wide variety of songs, new and old, and infuses them with their own funky upbeat style to encourage the audience to have fun, sing along, and dance.  

Matty Begs has released 3 EPs along with their single "Hide Away From The World" which was released on January 4, 2020.  Currently the band is working on 9 new singles to be released over the next year! The first single "Just Like A Dog" was released in March 2023.  Stay tuned and until then, you can download and stream all Matty Begs music here for free!
Sound: Matty Begs is feel good funky rock that has a hint of pop, reggae, and jam all rolled into one! 
Influences: Jack Johnson, Donovan Frankenreiter, Jason Mraz, G-Love, Dave Matthews, Michael Franti, Sublime, Sugar Ray, Mike Doughty
Just Like A Dog
Matty Begs
The newest single from Matty Begs. Available everywhere March 17th!
Read more…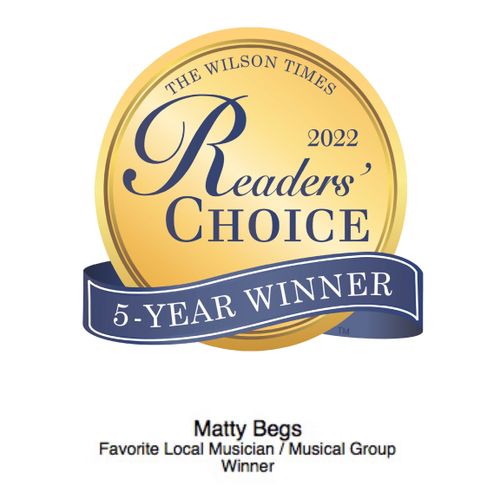 2022 Wilson Times Readers Choice Winner
Favorite Musical Group
For the fifth year in a row, Matty Begs has been voted by readers as the "Favorite Local Musician/Musical Group."   It's a great honor and we thank all the fans that voted!